Green Bean Casserole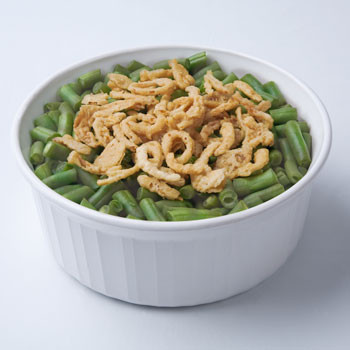 This traditional casserole made with cut green beans, cream of mushroom soup, and crispy fried onions is the perfect for the holidays, but it's so easy to make, you can serve it any day.
Click on picture to view recipe.
Preheat oven to 350 degrees F

Combine all ingredients except Crispy Fried Onions; place in medium casserole dish and bake for 30 minutes

Remove from oven carefully; stir

Top with Crispy Fried Onions.

Bake 5 minutes more or until onions are golden brown.
Recipe nutrition information:
Each serving (1 cup) contains 170 calories, 15 g carbohydrate (3 g fiber) 3 g protein, 10g fat (2g saturated fat), 5 mg cholesterol and 850mg sodium.